In Frederick County, MD, 35,291 households (37%) cannot afford basic needs such as housing, transportation, child care, food, transportation, health care and technology. Despite overall improvement in the federal poverty level, employment rates and gain in median income, the economic recovery in Frederick County, like that in the rest of Maryland, had not reached all families before the deleterious impact of the COVID-19 pandemic. A growing number of families now face challenges from low wages, reduced work hours, depleted savings and increasing costs.
The ALICE Report for Frederick County provides and in-depth look at Frederick County and the population called ALICE - Asset Limited, Income Constrained, Employed. ALICE households have incomes above the Federal Poverty Level (FPL), but struggle to afford basic houshold necessities.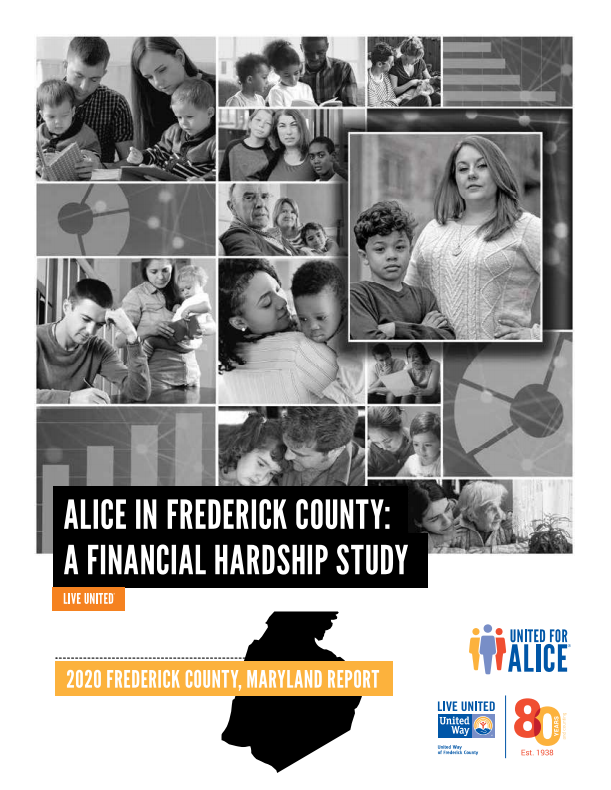 If you would like more information on the ALICE Report for Maryland, visit www.unitedforalice.org/state-overview/maryland
What is United Way of Frederick County doing to help?
The report underscores United Way of Frederick County's mission of bringing people and institutions together to collectively build a strong, viable community. UWFC focuses on strengthening the education , financial stability , and health of the Frederick County community because we know that children do better in school and in life when they have access to quality education; people are more financially secure when they have the skill set to land and keep good jobs, and have access to affordable, quality health care.
Through program and grants, United Way of Frederick County yields nearly $3 million annually in community impact that helps children, adults and families thrive. Whether it's through the Prosperity Savings Accounts program, free tax preparation, budget coaching, or financial education, the Prosperity Center helps families and individuals obtain the knowledge and resources they need to achieve financial stability.
UWFC also collaborates with business, government and community groups to identify and advocate for solutions that address underlying issues that negatively impact the Frederick County community, and especially ALICE families.
See HERE for an interactive website for more ALICE data on Frederick County, the rest of Maryland and other states.
Click HERE for a map from Frederick County government identifying food banks available to ALICE households along with ALICE data.
Click HERE for an analysis of ALICE households and how proposed stimulus payments would impact their financial stability during the COVID-19 pandemic.
2020 ALICE Report Release & Community Conversation Virtual Event
Media Coverage
Local DVM - Localdvm.com
Click to watch media coverage of the 2020 ALICE Report Release & Community Conversation.
The Frederick News-Post - fredericknewspost.com
Click to read media coverage of the 2020 ALICE Report Release & Community Conversation.
Need help?
Click here for a list of community resources and programs that could be of help to you or someone you know.
Local ALICE Partners
Advocates for Homeless Families
Blessings in a Backpack
Boys & Girls Club of Frederick County
Care Net Pregnancy Center of Frederick
Children of Incarcerated Parents Partnership
City of Frederick
The Community Foundation of Frederick County
Community Living, Inc.
Federated Charities
The Frederick Center
Frederick Community College
Frederick County Government
Frederick County Public Libraries
Frederick County Public Schools
Frederick Health
Frederick Rescue Mission
Girls on the Run of Mid & Western Maryland
Goodwill Industries of Monocacy Valley
Habitat for Humanity of Frederick County
Heartly House
Hood College
Frederick Health Hospice
Housing Authority of the City of Frederick
Interfaith Housing Alliance
Kiwanis Club of Frederick
Literacy Council of Frederick County
Marriage Resource Center
Mental Health Association of Frederick County
New Spire Arts
Partners in Care
Second Chances Garage
Spanish Speaking Community of Maryland
Helen J. Serini Foundation
SHIP of Frederick County
Woman to Woman Mentoring
Zavos Architecture+Design