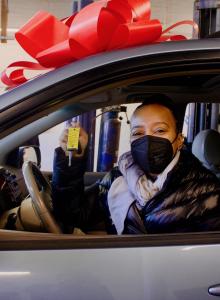 Pathway to Transportation Graduate
02/02/2022
On Friday, January 21, Tia received the keys to her new 2005 Toyota Sienna from Second Chances Garage. With the help of the Prosperity Center and the Pathway to Transportation program, Tia was able to ensure that she and her child have reliable transportation.
Tia is a single parent. As well as having her own transportation needs, such as work and attending college, Tia is also responsible for her child's transportation. Tia says that having a car is a big help with a lot of different demands such as her "career, education, being a single parent, providing food for [her] household, [and] taking care of [her] personal business." Having a car ensures that Tia and her child can meet their basic needs. Reliable transportation is a necessity in a place like Frederick County, where walking or bicycling is not always a viable option and the cost of rideshare programs can add up. While investments like a car can be beneficial and save an individual or family money in the long run, they often include short-term expenses that are out of budget. That is why programs such as the Pathway to Transportation exist, to help families and individuals, including Tia, on the Pathway to Financial Stability.
Through the Prosperity Center, Tia worked with a budget coach and the Credit Café to change her approach to budgeting and improve her credit score. Improving her credit score is just one way that Tia has been preparing for the next big investment into her family's future, buying a house. According to Tia, her experience with the Prosperity Center was amazing and heartfelt.
"It made me realize how blessed I am, even more with their help."