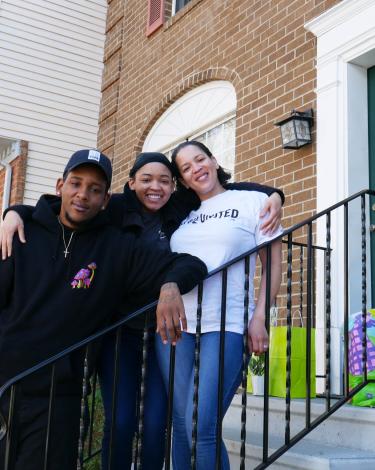 Pathway to Homeownership Graduate
7/14/2021
After six years, 42-year-old mother of two, Shinea, graduated from United Way's Pathway to Homeownership program and moved into her new house.
Shinea worked at Hood College for 12 years. Six years ago, she found United Way's Pathway to Homeownership program. While a part of the program, Shinea saved $25 per month to qualify for match savings for a down payment for her first home. Even through struggles, including COVID-19 layoffs, Shinea was able to continue her monthly savings with the support of her neighbors and family. She achieved her down payment goal and moved into her new home in March 2021.
United Way's Prosperity Center has been a great resource for Shinea and her family. Shinea's son, Shane, was the first graduate of the Prosperity Center's Pathway to Transportation. Through the program, he saved enough money to qualify for a match from Evangelical Lutheran Church and purchase a used car from Second Chances Garage, which he now uses to get to work. Both Shinea and Shane took part in the Prosperity Center's budget coaching program, which helped them learn the financial skills that they needed to set and meet their financial goals. Undoubtedly, Shinea and Shane will have and grow these skills into their bright futures.
Buying a home is about more than having a place to live, especially for Shinea. It's about being a role model and setting a precedent for her family. Shinea believes, "It's showing my family too that they can be homeowners, and I think it's changed the dynamics of my family."