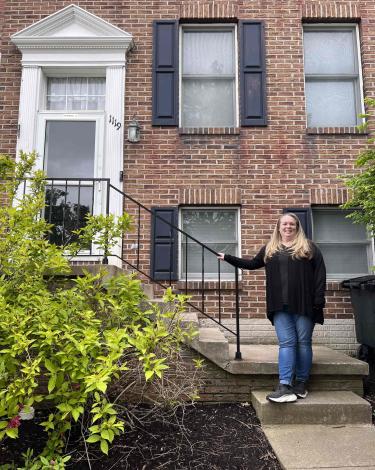 Pathway to Homeownership Graduate
5/4/2023
After nearly two years of the housing market preventing local ALICE families from purchasing their first home, United Way of Frederick County was thrilled to join Laura Harris in a ribbon cutting at her new home! On May 2nd, the United Way team, including Board Chair Sharon Jacko and Laura's budget coach Keshava, celebrated Laura's hard work as the Pathway to Homeownership's 28th graduate.
Laura hit the reset button on her life in 2016. Following her divorce, she moved from Northern Virginia to Mount Airy with her two kids and started a new career. As she started working her way up from the bottom of the ladder in her new role, she quickly found herself racking up credit card debt to get by, something all too familiar to many ALICE households.
In 2018, Laura tapped into her skills as a former Social Worker and began to research what resources were available to help her move forward. She knew she didn't want to rent forever, so she started her search with homeownership. The first resource she found was the City of Frederick Department of Housing and Human Services' Homebuyer Education Workshop, ultimately completing it three times on her Pathway to her new home. 
Then, in 2021, Laura found United Way's Pathway to Homeownership. She worked through the program in just under two years, working with her budget coach Keshava to pay down her debt and build up savings for her home. At first, she was nervous about the process as it's exposing and vulnerable to share your whole life with your coach, but Keshava was her biggest cheerleader, making Laura comfortable with the process as she moved towards financial stability. 
Finally, after a nearly five-year journey, navigating a turbulent housing market and making many offers, Laura finally purchased a new home for her and her family in early 2023! Laura and her family are slowly getting adjusted in their new home and are enjoying not only the financial freedoms that come with no longer renting, but also the extra family time it has afforded them. 
Laura says their new living room with a couch big enough for the whole family is her favorite part of the house. "Even if [the kids] are on their devices, we're all sitting in the same room. You know, just being able to converse more, more family time; it seems silly, but really it's a huge difference to me."
When asked what advice she has for those still going through the Pathway to Homeownership program, she said, "You've got to stick with it. you've got to be committed to it. And if you do commit to it, I feel like it's very rewarding once you're able to step back and see where that got you."