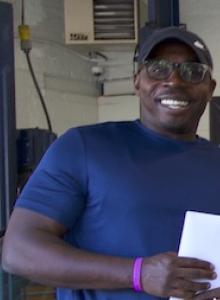 Pathway to Transportation Graduate
10/29/2021
Jamel is a 2021 graduate of United Way's Pathway to Transportation program!
Jamel graduated from Frederick Community College (FCC) in Fall 2021. He was a 3.903 grade point average student, graduating with honors and may be a speaker at the May 2022 graduation. He will be attending Hood College to pursue his Masters' degree in Social Work.
Jamel is, in his own words, a go-getter. When he found out about United Way's Pathway to Transportation program through a classmate, he decided to be a part of the program because he wanted to take ownership and make a change in his life.
"When striving to move up in life...to get something you've never had, you've got to do something you've never done before," Jamel said.
Without a vehicle, Jamel relied on others to get around. Having his own vehicle will allow him to get to school and work without having to depend on another person.
"I don't like having to depend on others all the time," he told United Way. "[It's a] little bit of a pride thing there, but you know. Thank God, he put some good people in my path who didn't mind giving me a ride."
As well as helping him save for a car, United Way's Prosperity Center also helped Jamel through budget coaching. Prior to working with the Prosperity Center, Jamel paid his bills as he went, but now he has a more structured system that helps him to keep track of his bills and his budget. With his car and his budget planning, Jamel is looking at buying a home in the future.
Having had the experience of being the person in need of a ride, Jamel wants to be able to do for others what was done for him. With his new car, Jamel said he is able to give back by giving other individuals rides, whether that be to recovery meetings, to church, or just being of service to other people.
"Me helping others, like people have helped me, that's giving me the greatest joy."