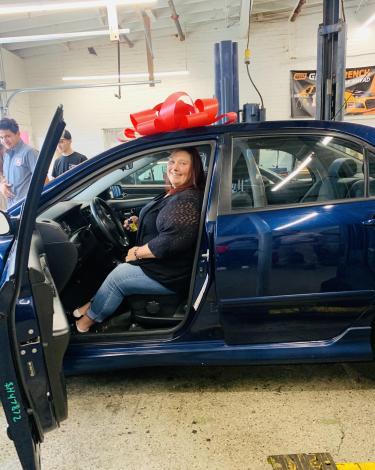 Pathway to Transportation Graduate
6/23/23
For Candy, owning a car means so much more than having reliable transportation, it is about allowing her to spend important time with her daughter and continuing to build a valued life after accomplishing two years of sobriety. When asked what owning her own vehicle means to Candy, she expressed, "I have missed so much time with my daughter, but now I am getting it back and it means everything!". This amazing accomplishment gives Candy the ability to share precious time with her daughter, be on the sidelines cheering her on at ice skating competitions, and ensure she is able to support her daughter through all her future accomplishments! Owning a car gives Candy a newfound freedom, not only ensuring she's able to get to and from work, but allowing for many more opportunities to achieve future goals. 
On June 23rd, the United Way team had the honor of celebrating Candy's hard work at Second Chances Garage, cheering her on as she was handed the keys to her new Toyota Corolla.
Candy moved to Frederick in 2021 for a fresh start, to focus on her sobriety, and build a life for herself. She later joined our Pathway to Transportation program this past March with the hopes of getting her own vehicle. This program connects ALICE families to safe, reliable and affordable private transportation, which allows them to maintain or start careers, have access to medical care, and allows for more opportunities to obtain suitable housing.
As part of the Pathway to Transportation, Candy has been able to utilize a number of programs, including budget coaching and credit counseling thanks to a partnership with Interfaith Housing Alliance. She stated these steps on the Pathway to Transportation were the most helpful learning opportunities for her. Way to go, Candy!