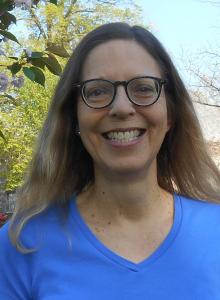 VITA Volunteer
03/02/2022
Meet Becky. She volunteers with the United Way's Volunteer Income Tax Assistance (VITA) program. VITA is a program that provides free tax preparation services for ALICE households in Frederick County. This all-volunteer program, thanks to community-oriented individuals like Becky, serves low-to-moderate income, hard-working families by providing IRS certified tax preparers to prepare and file federal and state taxes for those with earned income.
Becky says, "It's just not really fair that taxes are so complicated. People can't do them and yet the law requires them to do them." She also knows, "Everyone has to file income taxes, you know, …and the government, unfortunately, just makes it incredibly complicated for a lot of people."
Prior to becoming an IRS certified VITA volunteer, Becky dedicated 30 years to the public education system as both a high school English teacher and Librarian. Upon retiring from the education system, Becky decided to go to massage school and become a part-time massage therapist. While in massage school, Becky learned about VITA and decided to volunteer.
Working with VITA is not Becky's first volunteer experience. However, it was her first experience working with someone's taxes other than her own. Becky has volunteered with VITA for three out of the past five years. She was so interested in the VITA program and tax preparation, she opted to study for and earn her tax license so that she could prepare and file taxes professionally.
For VITA clients to get the tax credits that they deserve, they have to know how to file for them and the process of filing taxes is complicated, which is why Becky thinks that VITA "a really vital service to have people help file them without charging them hundreds of dollars."
The Volunteer Income Tax Assistance (VITA) Program works to ensure that ALICE households and low-income families get the tax credits they deserve by providing free tax services to those who are eligible.